Sermon Series…
7 Questions for Lent-Sunday Sermon Series
Lent is a time to return to the Lord, to prepare our hearts and minds for the death and resurrection of Jesus. It is also a time when we can ask some challenging questions about who this Jesus is and the significance of what He is about to do. What expectations do we have about our Savior? Can we handle the truth of His Word? Who is this Jesus, really? We'll dig into these, and other, questions about the Savior who gave everything He had to make us His children. His life, death, and resurrection bring purpose and hope to our lives. This series began in March and will run through late April.
Behold The Tree-Lenten Service Series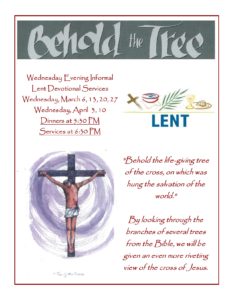 This year's Wednesday evening Lenten services (which began on Ash Wednesday, March 6th) will be using the theme "Behold The Tree." "Behold the life-giving tree of the cross on which was hung the salvation of the world." This Lenten series considers a number of significant trees in the Bible (such as The Tree of the Knowledge of Good and Evil, Jonah's Withered Vine, Zacchaeus' Sycamore, and others). Looking through their branches may give us an even more powerful view of the tree, the cross, of Jesus. There will be a series of dinners from 5:30 – 6:20 PM, with the informal Lent Devotional service to follow at 6:30 PM.